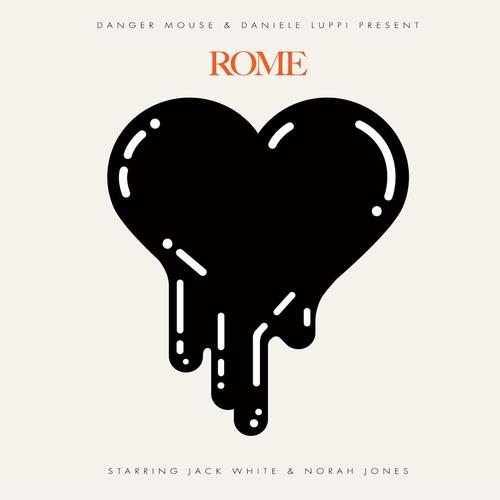 It's here! NPR has posted a First Listen of
Rome
, the beautiful collaboration (5 years in the making) between producer/composer Danger Mouse and Italian composer Daniele Luppi, featuring vocals by Jack White and Norah Jones. Danger Mouse and Luppi were inspired by 60's Italian soundtracks and what composers were doing in Rome during this time–which was trying to replicate the American Western. This is the concept they played with when creating the songs, and even used some of the same musicians who recorded on the soundtracks they were inspired by. 
I've written about the release a couple times since getting wind of it, praising the entrancing "
Rose With A Broken Neck
" and the bewitching "
Two Against One
." Now the full 35 minute release can be streamed in all it's glory, and glorious it is. From Luppi's beautiful compositions, Danger Mouse's genius producing, to the irresistible vocals of White and Jones, Rome is triumphant. 
The duo were inspired by what composers were doing in Rome in the 60's, trying to replicate the Roman Western.
It almost has to sound better on paper than in practice, but it's terrific in practice, too, as it alternates appropriately cinematic instrumentals with a handful of nifty showcases for its headliners….From start to finish, the album provides a timeless, arduously arranged backdrop to past generations' visions of panoramic vistas and blood-stained betrayals.
Rome streets May 17th.
Watch a behind the scenes look at Rome